| | | |
| --- | --- | --- |
| | Construction of the 390 SMW | |
---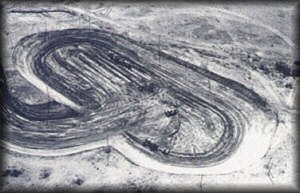 The construction of the Titan II missiles sites
started out looking like a strip mining operation.
Soil was removed in this manner until the required
depth was reached for construction to start on
the Control Center, Blast Lock Area and Access
Portal and digging started for the Launch Duct
and Silo Equipment Area. The following photos
show the progress of the construction to
completion of a missile complex.

---
Control Center and Silo Equipment
Area construction. (silo on right)







---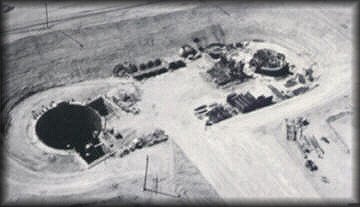 Construction starts on Access Portal
and Blast Lock Area. (silo on left)








---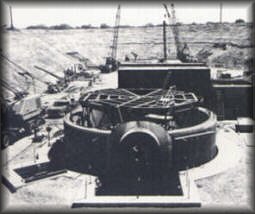 Control Center Construction.











---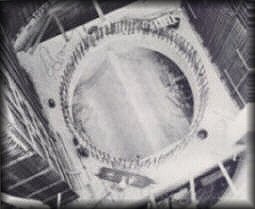 Launch Duct Flame Deflector Construction
on Level 8 and Level 9 of the Silo.









---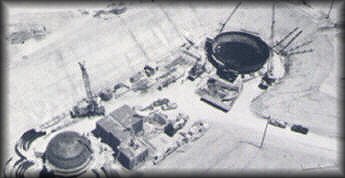 Construction continues on the
Blast Lock Area, Access Portal, and Silo.
Dirt is back filled as construction
progresses. (silo on right)





---
Construction of Control Center Dome,
Blast Lock Area, and Access Portal
completed. Construction of Silo Head
Works continues. Preparations are being
made for placement of Short and Long
Cableways to connect the Control
Center to the Missile Silo.
(silo on right)


---
Silo Head Works and topside area
are being prepared for placement of
the Silo Closure Door ( sitting on the
left side of photo). This was constructed
of 740 tons of concrete and steel. It
protected the missile from damage from
a blast and weather. The Door was
opened using a combination of hydraulic
actuators and steel cables.
---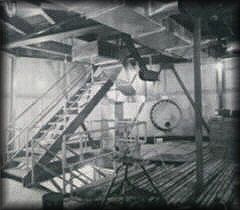 Construction of Control Center.
This is a photo of the Construction of Control
Center Level 2.








---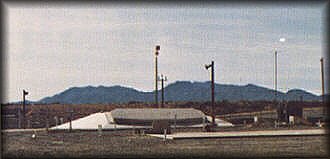 The finished product. This is what
the missile complex looked like after
completion.





---

Certain parts of the construction were not shown in these pictures or any
books that I have read. The complex topside had underground Emergency
Dump Tanks that were used to off load missile propellants in an emergency.
Missile propellants in the Titan II system were stored on board the missile,
unlike the Atlas or Thor missile systems which loaded the propellants during
the launch sequence. Also, the Titan II missile was launched from underground,
unlike some of it predecessors which were raised above ground to be launched.
There was also an 8,000 gallon diesel fuel storage tank the held fuel for the
Standby Power Generation systems (located underground topside).